Are you tired of the hassle of sharing text URLs or copying long URLs manually to share with colleagues or friends? Well, Generate QR Code for Text offers a simple solution to your problem, providing an innovative way of sharing text by creating QR codes. QR codes, also known as Quick Response codes, are two-dimensional barcodes that are easily scanned using smartphones to read and interpret the encoded data.
How it works
Generate QR Code for Text uses a set of algorithms to encode text as QR code format. The tool then generates a unique QR Code that can be scanned by anyone with a smartphone's camera. Once scanned, the text encoded in the QR code is displayed on the user's phone, providing a simple and convenient way to share text data.
Or you can use Generate QR Code for Text tool in He3 Toolbox (https://t.he3app.com?tban) easily.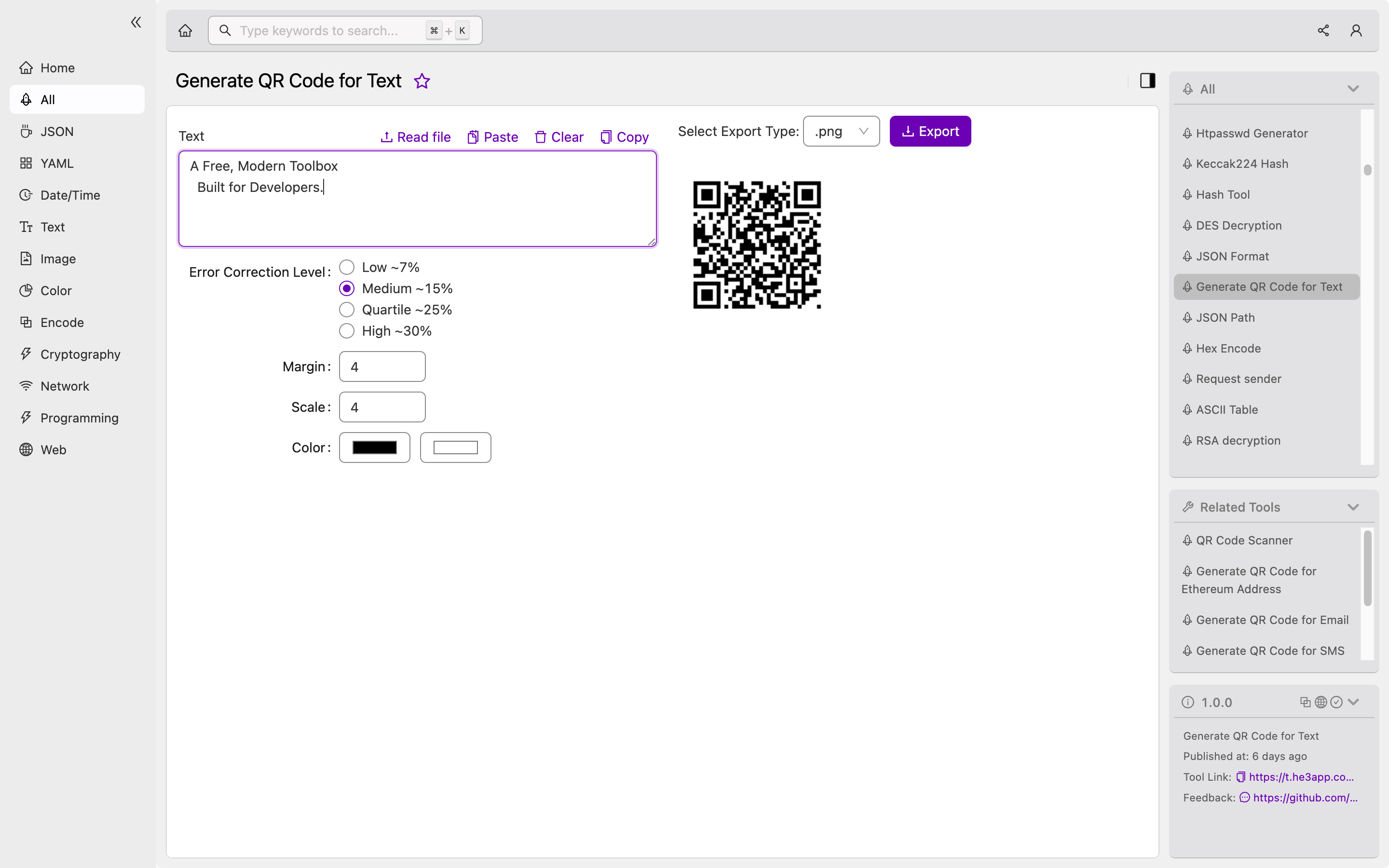 Key Features
| Features | Description |
| --- | --- |
| Easy-to-use | Generate QR Code for Text is user-friendly and easy to use, requiring no advanced knowledge of programming. |
| Fast and Efficient | The tool generates the QR code within seconds, thus providing a fast and efficient way of sharing text data. |
| High Capacity | Generate QR Code for Text can encode large amounts of text into a single QR code, eliminating the need to share long URLs. |
| Cross-platform compatibility | The generated QR codes are compatible with a variety of devices, including Android, iOS, Windows, and macOS. |
Scenarios of Use
As a developer, Generate QR Code for Text is an essential tool to have in your toolkit. The following are some possible scenarios where you can leverage this tool:
Sharing URLs and links within an application or website.
Providing contact information in a way that is quick and easy to scan.
Sharing text-based data like notes, to-do lists, or any other information that you need to share with someone else.
Misconceptions and FAQs
Misconception: QR codes are confusing and difficult for users to understand
While it's true that QR codes aren't yet as universal as barcodes, more and more users are familiar with the concept, and it's becoming easier to scan QR codes using camera apps. Generate QR Codes for Text makes it easier to create and share QR codes, which means that users don't have to struggle with writing down long URLs.
FAQ #1: Can the generated QR code be customized?
Yes, the QR codes generated by Generate QR Code for Text can be customized with colors, logos, and other visual elements to match your company's branding.
FAQ #2: Is there a limit to the amount of text that can be encoded in a QR code?
While there is a limit to the amount of text that can be encoded in a single QR code, the limit is far beyond the capabilities of any typical text message or URL.
Conclusion
Generate QR Code for Text is a powerful tool that simplifies sharing text data by creating QR codes that can be easily scanned using smartphones. With its fast, efficient, and easy-to-use interface, generating QR codes for text data has never been easier. Start using Generate QR Code for Text today, and say goodbye to the hassle of long URLs and text sharing.
For more information, check out the Wikipedia page on QR codes.